Bejeweled Blitz LIVE just launched, on Wednesday, February 23, on Xbox LIVE Arcade, from PopCap Games and Torpex Games! Microsoft chose our game as one of the select Xbox LIVE Arcade games to be featured in their "House Party" promotion, and it's available now for a mere 800 Microsoft Points!

Bejeweled Blitz LIVE pushes Bejeweled into a new frenzied realm with a 60-second limit, and cranks up the competitition with new Battle modes — against a local friend on the same console, or over Xbox LIVE! You can also join a 16-player Party over Xbox LIVE; and all game modes let you play in Classic gameplay, or in the new Twist game mode, where you can twist both ways for greater speed!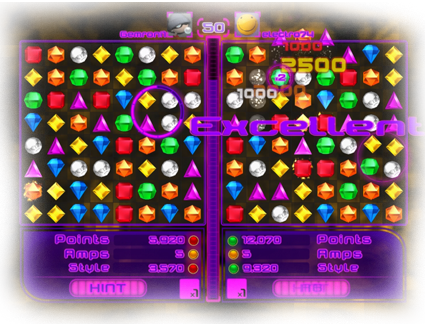 All-new in Bejeweled Blitz LIVE are our Battle Local and Battle LIVE competitions, in both Twist and Classic game modes!

In Battle Local, invite a friend over, and compete head-to-head as you match gems, explode lightning gems, create hypercubes, and score cascades at a breakneck pace! It's a frenzied race to the 60-second finish, but because you both start out with the same board, it's a sharp test of skill as well as your reflexes!
In Battle LIVE, compete against tough competition from around the world over Xbox LIVE! You can Quick Match against a random, or invite a friend or your Xbox LIVE Party!

Also only on Bejeweled Blitz LIVE for Xbox LIVE Arcade is our new Party LIVE game! Up to 16 players bump heads, racing to outscore each other as each player blasts through their own 60-second-long Bejeweled speed matches! Invite friends or your whole Xbox LIVE Party, and let others join the fun, headsets on or not, as everyone shows off their special gem explosions and their bursts of Blazing Speed with dazzling on-screen fireworks! You can host or join a Party LIVE game of either Twist or Classic!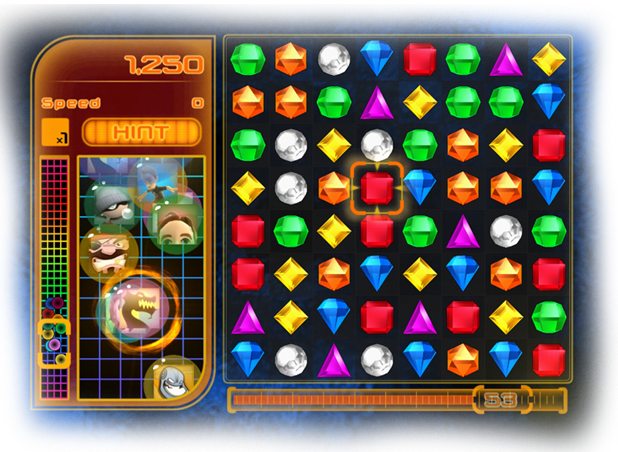 You've probably played the original Bejeweled at some point. Swap two gems to match 3 gems of the same color to burst them and score points; or match 4 gems in a row to create an exploding Flame Gem; or match 5 gems in a row for a Hypercube that you can match to any other gem, bursting all the gems of that color. If the new gems falling down onto the board also match 3 or more, those gems explode, and you start scoring extra Cascade points.

In Bejeweled Blitz LIVE, though, a 60 second clock transforms this classic puzzle game into action-puzzle insanity! Now, not only do you have to identify the best match, but you have to do it as many times as you can in 60 seconds, blowing up gems and clearing boards — and if you're playing Battle or Party, then the pressure is even higher as you race against your opponents!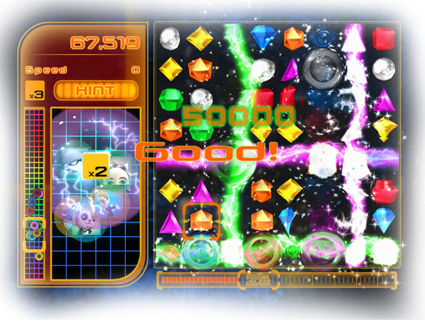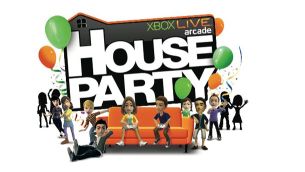 Microsoft has chosen Bejeweled Blitz LIVE as one of the select XBLA House Party games! It's available right now on Xbox LIVE Arcade!